Today was a crazy day. Not only did I move into my new flat in central London – I had a nice interaction with a Grade A Celebrity!
Whilst grocery shopping, for the first time in the area, I picked up a pretty hot black girl. She had an amazing ass… A friend and I were in Waitrose, and he pointed her out. I said "yeah she's not bad, she's got a great ass" and he said "tell her" so I came up to her and said "hey… you've got a GREAT ass!" and she was like "hey, I work on it!" … then we chatted for a while and she was pretty cool. Great vibe. I told her we're having a housewarming and that she should come. Just before I left her I said "hey, you better tell me if you're single so I can let my friends know whether they can hit on you" and she said "let them try" … heh.
After that we're walking down the street and I see this woman who looks suspiciously like Helena Bonham Carter. I said that to my friend, but he was like "that IS her!!!"
So I approached and I was like "hey, this isn't a chat up line or anything but… you look just like this actress! … we spoke few minutes. She loved me, of course. She recommended a good cheese shop in the neighborhood and we just had some good banter. I was like "Hey I'm a comic, showbiz baby!" and she's like "We do try!" … She asked who I was etc and I gave her a flyer for my comedy show. I got some nice pics of us…… but in retrospect I should have gone for her number! She was cool! How random. I got a pic of her, one of us together, and one of her kissing me (my cheek – she's a married woman!)
Funny how the stuff I do on all woman works just as well on a celeb. Women are women I guess, Eh? She's only human.
Fun day.
Her are the pics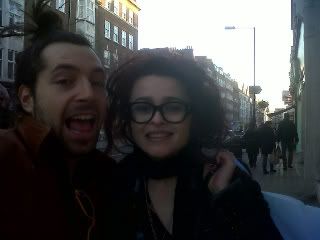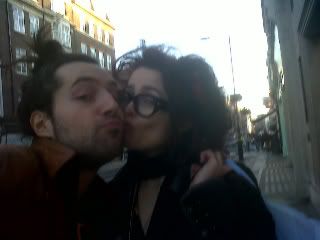 Click here to get instantly notified when Sasha publishes a new article or video! (A permissions window will pop-up. No email required!)